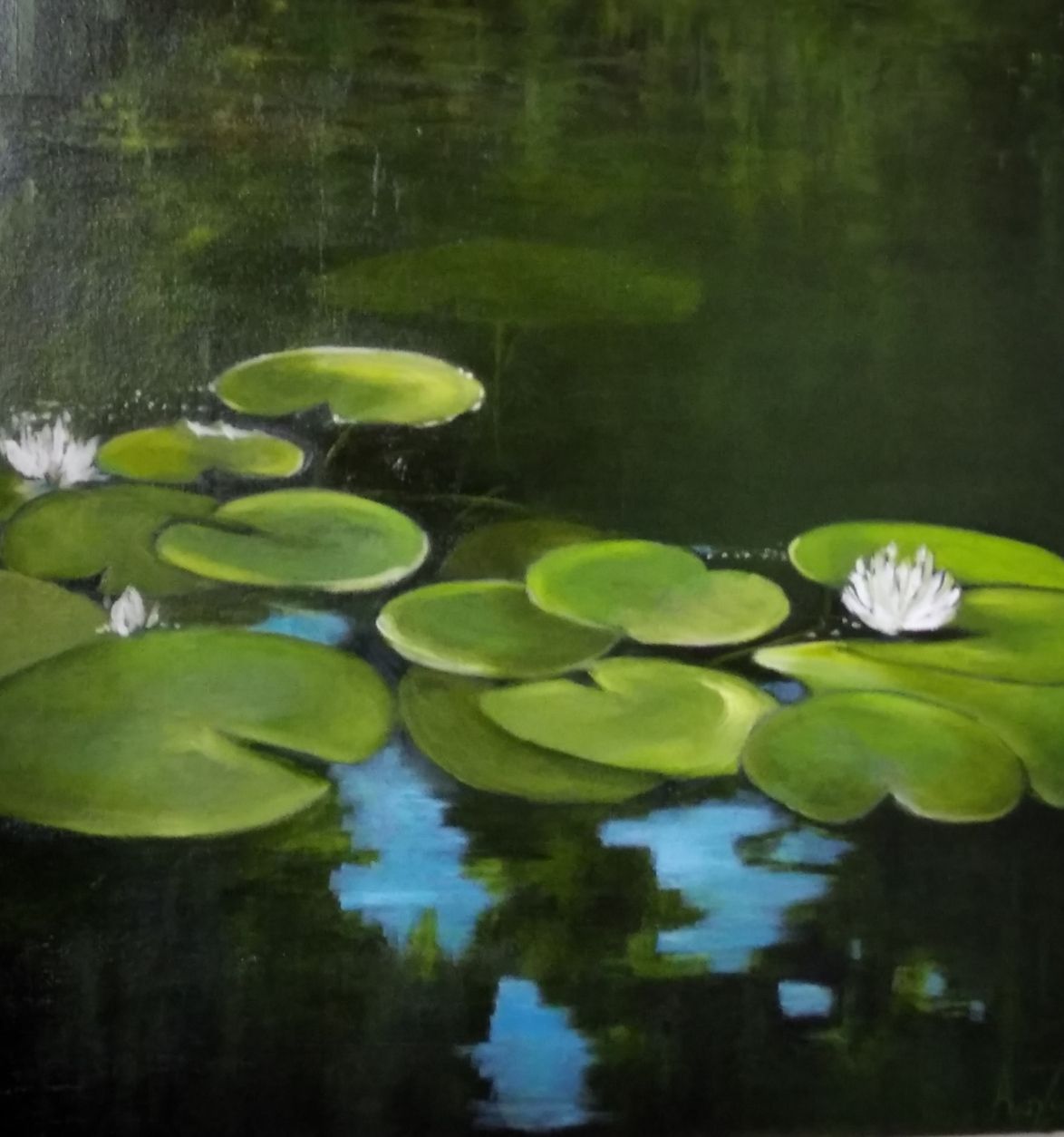 My dearest friends, 
This Sunday, I was scheduled to be playing at Bollington Arts Centre for the wrap party of the art exhibition, "Explore", by my friend, painting teacher, and amazing artist Anita van Zyl. 
Due to the extreme situation in which the human population finds itself, the exhibition is now online at https://anitavanzylart.wordpress.com.  I've included a couple images of Anita's amazing work in this letter as an enticement.  My musical contribution will take place still on 22-March, at 14:30 GMT, from my dining room (or wherever the internet is best), via Facebook Live, on http://www.facebook.com/aerynnmusic.  This is interactive.  Please comment, wave, etc and I'll do my best to reply!  It should also be viewable later on, for those of you who are in faraway time zones. 
How are your hearts?  My head is still spinning as we all process in real time the events of the world around us.  Yet, amidst the strange times in which we find ourselves, there is beauty. 
Is creativity without bounds truly creativity? 
The truest creativity comes from having a set of boundaries, from within which we must find ways to express ourselves. 
Boundaries such as a three dimensional world, or a two dimensional canvas of a particular size; 
A limited set of colours, or a Western musical scale comprised of only 8 notes, or the 6 strings on a guitar. 
The vocal range is a boundary. 
The 10 fingers are a limitation. 
We are squeezed by the size of a wall.  Or set free. 
How will you Explore this time of social isolation creatively?  While I watch events unfold around the world, naturally I'm saddened and heartbroken.  Simultaneously, I'm excited for what may be born through solitary, (yet through technology seemingly connected), exploration. 
I'll be planning weekly online musical happenings of some kind or another, at a range of times for you worldwide lot, and perhaps more frequently. 
Is Facebook Live a good platform for you? Should we start a Facebook Group?  Would YouTube be better?  Insta? 
What time zone are you in? 
We've reached 500 "Likes" on the Aerynn Facebook Page!  So I've offered a free album download for our 500th member.  Thank you for every hello, compliment, smile, or sing along at a gig, or even the "like" or "share" on social media.  It all means the world to me that the music is reaching you. 
In partnership to bring the music, 
—Aerynn 
Live music heals. (online!) 
22-Mar, 14:30 GMT, Facebook Live from Aerynn Facebook Page 
Lots more online, Date/Time TBA