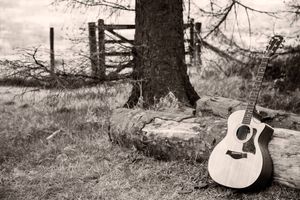 Bio
A singer-songwriter based in Greater Manchester, Aerynn writes and performs original, vocal-driven acoustic corroded folk Americana, akin to the troubadours of the 1970's with a hint of edgy grit.
Having performed in theatres, clubs, pubs, festivals, forests, coffee shops, bars, boat yards, living rooms, streets, churches, meadows, marketplaces and even a former bordello, she enjoys exploring acoustic spaces of all kinds. Previous performances of note include Macclesfield's Barnaby Festival, Leek Arts Festival (alongside acts such as Barbara Dickson and Fairport Convention), Middlewich Folk And Boat Festival, Dublin's YouBloom Festival, Regional Finals of the OpenMicUK Songwriting Contest at Northern Royal College of Music, the Manchester Americana Festival, and even an opening slot for punk legends Agent Orange!  
Born and raised in Oregon, USA, music has been a part of aerynn's life for as long as she can remember, having grown up in a musical family, and she began writing songs as a coping mechanism through life's inevitable twists and turns.  Her music is an acoustic alternative corroded folk collection of stories from her life, lives that she's witnessed, and a few she has yet to see. 
Accolades
Aerynn's single Four Places received Finalist status (top 2% out of 20,000) in the singer-songwriter category in the 2021 UK Songwriting Competition.  Unreleased Light With You was awarded semi-finalist in the UK Songwriting Competition, with her emotional ballad Returning (from Summer Leaves EP) receiving Commended Entry.
Discography 
Four Places (2021) and Fall Away (2018) were released as digital-only singles, and showcase Aerynn's songwriting after relocating to the UK, along with the first steps working with studio engineer Mark Winterburn.
Sleep In Heavenly Peace (2017) is Aerynn's first full-length album, and surprisingly to her, it is comprised entirely of traditional carols. Spurred by the sudden tragic death of Aerynn's keys player, Riverboat Steve, she decided to finish the festive music side-project they had started together in only a few short weeks, just in time for Christmas. 
Summer Leaves (2015) is aerynn's first release, comprised of five original songs selected from a vast repertoire. Moved by several of her friends having lost their fathers in one year, she asked her dad Ray Brassfield to join her in this recording on upright bass. Together they recorded the live studio takes that comprise Summer Leaves, raw and unfiltered. 
What others are saying... 
"Breath-taking and compelling", "Strong traces of Joni Mitchell", "Hairs on the back of my neck", "Best in Festival" ... Not my words but a lot of amazing feedback from the performance last night of The Aerynn Trio as part of Leek Arts Festival. Aerynn is a real find and delivered a phenomenal performance at the Foxlowe Arts Centre. Well done to her, Chris Cliffe and Heidi Jamilia for delivering a fantastic evening....-- Ian Wilson, Leek Arts Festival 
"Impeccable, confident folk from an artist with alternative rock roots, Aerynn writes songs with grace and intrigue. Her formula strays from too much structure, enjoying refreshing, attention-grabbing rhythmic choices and stream-of-consciousness delivery. A bright take on a classic." --Shannon Duvall, YouBloom Festival Headroom Blog 

"Aerynn has a refreshingly passionate and honest approach to songwriting and performance. Plus - when it comes to Americana she is the real thing!" --Andy Callen, Manchester Americana Festival 

"I thoroughly enjoyed what I was able to catch of Aerynn's set, and it kept the yard full, so clearly the customers enjoyed it." --Ian Hill-Smith, Middlewich Folk & Boat Festival Fringe 
"Delicate vocals andthought provoking lyrics transport you to a place of serene beauty." --Mike Chisholm, Artistic Echoes, Canalside Radio Cheshire 102.8FM 

"A positive warming experience despite the fact that the five songs are presented through sorrowful, melancholy even regretful lyrics...feelings of loss, battered emotions and sadness, yet ...a strong vein of resilience.... The feelings of warmth come through aerynn's richly expressive, soulful vocals and a softly, subtle guitar." --Tom Franks, FolkWords Review on 'Summer Leaves' EP 

"Aerynn is a fabulous songwriter and performer with a breathtaking voice. Perfect for those nights when you just want to be lulled in to blissful trance." --Chris Stairmand, The Wharf, Macclesfield 

"Aerynn has a great melodic sense, above and beyond the magnificent voice. Her lyrics are well crafted and tell stories and create emotions...I could understand everything she sang." ---John Burnett, Hawaii Tribune-Herald 

"Aerynn's hauntingly beautiful voice accompanied with her articulate lyrics awed the packed house. " --Local Expressions Hawaii, ARTventure Review