"

Impeccable, confident folk from an artist with alternative rock roots, Aerynn writes songs with grace and intrigue. "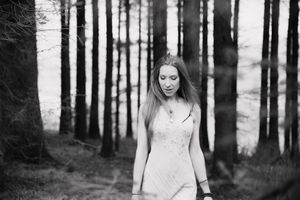 Aerynn Short Bio.
Performing in theatres, clubs, pubs, festivals, forests, coffee shops, bars, boat yards, living rooms, streets, churches, meadows, marketplaces and even a former bordello, Aerynn embraces the troubadour approach of storytelling and raw emotional expression through her songs.  
Writing as a coping mechanism and response to real human experiences from Oregon to Hawaii, Boston to the UK and perhaps outer space, Aerynn weaves alternative rock roots into modern acoustic folk in melancholy yet hope-filled stories from her life, lives that she's witnessed, and a few she has yet to see.  
Having left a career in Astrophysics, she now creates, lives and teaches music in Macclesfield, United Kingdom and is currently sprinkling the last few notes into a full-length album with producer Mark Winterburn, due for imminent release in 2023!   Join the journey and subscribe to her beloved email community, online at www.aerynn.com, or socials @aerynnmusic.
Aerynn's latest Americana single Four Places (2021) was awarded a Finalist position in the UK Songwriting Competition in the top 2% of over 10,000 entries.  Notable performances include a feature at the Leek Arts Festival, sets at Leek Blues & Americana Festival, Middlewich Folk and Boat Festival, Macclesfield's Barnaby Festival, Dublin's YouBloom Festival, Manchester Americana Festival, and the Open Mic UK's Songwriting Contest Regional Final at RNCM Manchester.  
Hi-Res Photos.
Press Links and Quotations.
""Breath-taking and compelling", "Strong traces of Joni Mitchell", "Hairs on the back of my neck", "Best in Festival" ... Not my words but a lot of amazing feedback from the performance last night of The Aerynn Trio as part of Leek Arts Festival. Aerynn is a real find and delivered a phenomenal performance at the Foxlowe Arts Centre. Well done to her, Chris Cliffe and Heidi Jamilia for delivering a fantastic evening...." Ian Wilson
"Impeccable, confident folk from an artist with alternative rock roots, Aerynn writes songs with grace and intrigue. Her formula strays from too much structure, enjoying refreshing, attention-grabbing rhythmic choices and stream-of-consciousness delivery. A bright take on a classic."  Shannon Duvall, YouBloom Festival Headroom Blog
"Aerynn has a great melodic sense, above and beyond the magnificent voice. Her lyrics are well crafted and tell stories and create emotions...I could understand everything she sang." John Burnett, Hawaii Tribune-Herald
"The feelings of warmth come through aerynn's richly expressive, soulful vocals and a softly, subtle guitar..."  Tom Franks Folkwords Review of Summer Leaves EP http://www.folkwords.com/folkwordsreviews_96643.html
"Delicate vocals and thought-provoking lyrics transport you to a place of serene beauty." Mike Chisholm, Artistic Echoes, Canalside Radio Cheshire 102.8FM
Interview with Artistic Echoes Show on Canalside Radio 102.8FM Cheshire: https://www.mixcloud.com/ArtisticEchoes/artistic-echoes-show-090516-aerynn/
Previous Radio play on:
AllFM 96.9FM, Manchester, UK
Canalside's The Thread 102.8FM Northeast Cheshire UK 
KCLR 96FM Kilkenny, Ireland 
Women of Substance Radio & Podcast (online broadcast) 
Radio Crystal Blue (online broadcast)